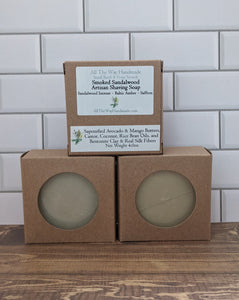 All The Way Handmade
Smoked Sandalwood Shaving Artisan Soap
Regular price
$8.00
$0.00
Unit price
per
Smoked Sandalwood Shaving Artisan Soap
The round shaving soap disk refills are back!
A favorite back from 2019!!! Yes, 2019. I made minis of these soaps years ago but despite how popular they were, the process was just a nightmare... until this year! With new equipment specifically made to help plop a new soap into an existing shaving container, here they are, back again in full force! 
Fragrance Notes: Sandalwood Incense, Baltic Amber, Saffron
Specialty Ingredients: Walnut Shells, Bentonite Clay, Mango Butter, Avocado Butter
Luxury Ingredients: Castor Oil, Certified Organic Coconut Oil, Ethically Harvested Silk, Rice Bran Oil
To help your soaps last longer, keep them in a dry and ventilated area between uses. This isn't a general warning - it really does help!
All soaps from All The Way Handmade are small batch produced and made with saponified oils, fragrance oils, essential oils, skin safe micas, skin safe pigments, and other luxury ingredients. This means it uses all natural ingredients and the traditional way of making soap from scratch. 
Approximate 3"x4"x1" dimensions and 4.2oz weight. Shipping is determined by weight and is calculated at check out. All of the All The Way Handmade Artisan Soaps are hand cut so weight variation between bars should be expected.
For any further questions, please send us an email using our Contact Us page or contact owner@allthewayhandmade.com.
---
Share this Product
---