❄ Winter is coming & selling out faster than ever ❄
Latest Releases! So new, some don't have pictures yet!
What I've Heard Back
Body butter love
OMG! This is my favorite body butter ever! I absolutely LOVE this scent. I use it daily, right before bed and I get to enjoy the scent all night long. Leaves my hands/body super soft. Don't ever stop making this PLS!💜
What a delight!
I love all of their soaps! The scent is wonderful!
Been waiting for this!
I love this facemask! I had been waiting for it to come back in to stock, but I understand why it gets sold out so quickly! Thank you
Love this one!!
I first tried the jasmine rose body butter at a farmers market and loved the creamy feel and delicious scent so much I got one for my sister also. Ordering online was easy and I ended up getting 4 to give away and 2 to keep for me!
a bit of luxury
Really love this, it is perfect for giving my face some extra care and moisture before getting out of the shower. I really love the new format, because I can use as little or as much as I want. It feels nice and smells wonderful!
I had purchased the pearls in the past a couple of times and had torn them in half to make them last longer. Plus I never knew what to do with all the rose petals in the jar. I think the formula may be a little different from the pearls I purchased in the past, as they used to give me a effervescence or tingly clean feeling.
Love it!
This soap is absolutely amazing thanks! From the minute you open the packaging till all the time that you're using it it smells absolutely lovely. I plan on buying a ton more soap
Amazing
I purchased several body butters at a local event in Santa Clara. It's all amazing! I love the honey and this peppermint! I plane to buy more!! How you are at more events!
Excellent
It leaves my skin very soft, and the lemon scent is fresh! The jar is nice and big, and I appreciated the cute little travel container that came with it. Fast delivery, too!
Big hit with both myself and my boyfriend
Having bad allergies and migraines, I'm VERY sensitive to scents. However, this perfume is strong enough that it makes me smell AMAZING, but subtle enough that I feel like no one would keel over if I was trapped in an elevator with them. When I wear it, I often wonder "what smells so good?" only to realize it's me. My boyfriend (the one who purchased it for me), loves it too! He compliments me anytime I wear it. Overall I will definitely be repurchasing this when I run out!
Aromatic and soothing!
My dry arms and legs are well moisturized with this light and fluffy product. Not greasy at all and the lavender is aromatic and lovely. The lavender scent is not heavy just soothing. My body is a dry blank canvas just loving the combination of emollient ingredients.
Cramy and Hydrating
Love the aroma and it lingers but not too strongly. The emollient ingredients are not greasy feeling at all and my dry skin loves this product! The lid is a bit difficult to snap shut, but otherwise a superb product.
Heavensent
Im a low maintenance person with skin that needs high maintenance. Its always a hassle finding things that work! Bought this today at an event - Sienna was a delight, and Im LOVING this product. Body oils do well for me but leave me feeling greasy - this on the other hand is moisturizing, and perfectly textured. Will be buying more in the future!
Jasmine & Rose Artisan Body Butter
Lavender and Purple Clay Mask
What a lovely product! Your face will thank you!
Neat Addition
Certainly a lovely experience shopping around for your favorite scents, but when you can just have it created for you, it's even better!
She's super accommodating and always a pleasurer to order from! She's fantastic at coming up with scents that are just right!
Keep up the good work!
Trending All The Way Handmade Blog Posts
I am so happy to finally come out and say a bit about what I've been secretly working on for months now. I have some exciting new products in the...
The inevitable finally happened. One of my soaps didn't turn out as I was certain it would. And I sold it, a lot of it, at an event in March....
Why We Love Our Soaps
Sienna makes cold process soaps, meaning soap from scratch - yes, that's possible! Sustainable & Ethically Sourced Coconut, Olive, Sweet Almond, Rice Bran, Avocado, and Castor Oils saponify into these lovely, creamy & gentle soaps best for dry or sensitive skin. 
Each collection brings forth a new creative challenge with a new technique and range of ingredients.
All of our soaps are free of unnecessary preservatives, and superfluous foaming or hardening agents.
[Pictured: 2020 Fall Collection]
Shop In Stock Artisan Soaps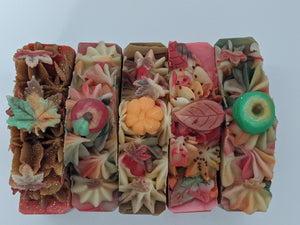 Caring for the Whole Body
One of the major goals of All The Way Handmade is to make products that genuinely care for the body. That started with soaps, since those are one of the easiest shelf items to be overlooked when trying to improve skin quality, yet something we use daily.
The next endeavor was creating a replacement for most store bought lotions and creams for basic dry skin and daily needs - so we developed our Whipped Body Butters and Intense Creams. Soon after, Face Mask Pearls and Lip Butters joined the collections - with always more on the horizon!
[Pictured: 2oz Into The Woods Body Butter]
Shop In Stock Body Care