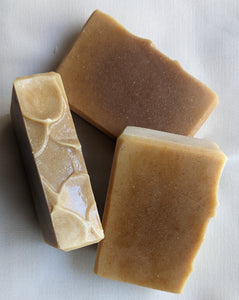 All The Way Handmade
Oatmeal, Almond Milk & Honey Specialty Artisan Soap
Regular price
$10.00
$0.00
Unit price
per
Oatmeal, Almond Milk & Honey Specialty Artisan Soap
Oat, Milk & Honey, but make it soap! Colloidal oatmeal, almond milk, and local honey were my choices here. This was the easiest of the easy soaps to make. It's a simple, sweet beauty. The oatmeal makes the smoooothest texture; almond milk helps with creaminess, and oh, the honey makes the most beautiful bubbles! There was nothing more I wanted to do with this soap other than a honey fragrance oil, and a textured top. No color, no shimmers or glitters. It's delectable!
This specialty artisan soap is made using almond milk and a generous dose of real honey. The lather is out of control!
Fragrance Notes: Honey, Spun Sugar, Peach Tea, Jasmine
Luxury Ingredients: Almond Milk, Avocado Oil, Castor Oil, Certified Organic Coconut Oil, Colloidal Oatmeal, Ethically Harvested Silk, Honey, Rice Bran Oil, Sweet Almond Oil
As always, every bar of our handmade soaps receives individual attention from design to creation to packaging. We hope you can feel the difference, and of course the love we put in.
To help your soaps last longer, keep them in a dry and ventilated area between uses. This isn't a general warning - it really does help!
All soaps from All The Way Handmade are small batch produced and made with saponified oils, fragrance oils, essential oils, skin safe micas, skin safe pigments, and other luxury ingredients. This means it uses all natural ingredients and the traditional way of making soap from scratch. 
Approximate 3"x4"x1" dimensions and 4.2oz weight. Shipping is determined by weight and is calculated at check out. All of the All The Way Handmade Artisan Soaps are hand cut so weight variation between bars should be expected.
For any further questions, please send us an email using our Contact Us page or contact owner@allthewayhandmade.com.
---
Share this Product
---