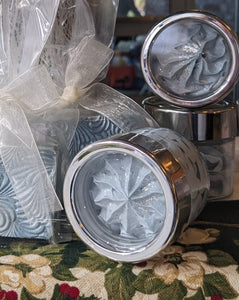 All The Way Handmade
Flurry Artisan Body Butter
Regular price
$12.50
$0.00
Unit price
per
Flurry Artisan Body Butter


There's something so special about the winter woods scents. Each one brings their special je ne sais quois to the lineup. No matter which types of trees are around your part of the world, the greater shared human experience is a brisk walk outside and smelling the broken limbs and crushed needles from earlier wildlife visitors (maybe that's in summer for the southern hemisphere folks).
This whippted body butter soap makes me want to live in a Christmas tree farm, preferably 3000+ft above sea level. Dressed up with a complicated mix of my favorite blue mica, and a light dusting of super sparkly, large sized glitter. 
Fragrance Notes: Eucalyptus, Sweet Pine, Frozen Air
Luxury Ingredients: Avocado Butter, Natural Vitamin E, Seaweed Extract, Oat Oil
All of the All The Way Handmade Body Butters are Shea Butter and Beeswax free. No added preservatives either.
This Artisan Body Butter uses the signature All The Way Handmade Luxury Butter recipe. As always, every jar of our handmade body butters receives individual attention from design to creation to packaging. We hope you can feel the difference, and of course the love we put in.
Care Tips:
To help your body butter last longer, keep them dry by using dry or patted off hands to apply. This isn't a general warning - it really does help!
Our body butters an easily be used as a replacement for shaving cream or just as an in-shower moisturizer instead of having to wait until getting out of the bath or shower.
Even with our shameless over applying of this wonderful body butter, each one will last a single person at least 3 months of continual use.
All body butters from All The Way Handmade are small batch produced and made with fruit oil butter, fragrance and/or essential oil, botanical extracts, and botanical decorations.
Approximate weight is 1.5-2oz for the 3oz glass jars. The jars and lids are food safe. The jars are dishwasher safe while handwashing is recommended for the lids. Shipping is determined by weight and is calculated at check out.
*Our Body Butters are extremely lightweight and fluffy, making them susceptible to shipping movement. They will still be whipped and piped like what you may have seen in the faires and pictures, but they will likely need a bit of help upon arrival to look their best. A few gentle knocks on a countertop will move everything back in place.*
Learn more details about our Artisan Body Butter in our announcement blog post! 
For any further questions, please send us an email using our Contact Us page or contact owner@allthewayhandmade.com.
---
Share this Product
---