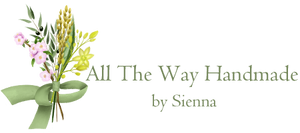 All The Way Handmade
Artisan Body Butter Signature Collection Bundle
Regular price
$55.00
$50.00
Unit price
per
Artisan Body Butter Signature Collection Bundle
Can't choose which scent to indulge in? No problem (I can't either!). Honestly, it's my absolute favorite part of my daily self care ritual - picking my scent du jour. That's why I made a bundle with one of each artisan body butter in the Signature Collection. That means that each body butter bundle (say that five times fast) contains one of each:

With the entire collection, there's something for every mood and whim!
Please select a bail jar size from the options above. All body butter jars in the bundle will be that size.
Luxury Ingredients: Avocado Butter, Natural Vitamin E, Seaweed Extract, Oat Oil
All of the All The Way Handmade Body Butters are wax free and whipped for easy use. No added preservatives either.
These Artisan Body Butters use the signature All The Way Handmade Luxury Butter recipe. As always, every jar of our handmade body butters receives individual attention from design to creation to packaging. We hope you can feel the difference, and of course the love we put in.
Care Tips:
To help your body butter last longer, keep them dry by using dry or patted off hands to apply. This isn't a general warning - it really does help!
Our body butters an easily be used as a replacement for shaving cream or just as an in-shower moisturizer instead of having to wait until getting out of the bath or shower.
Even with our shameless over applying of this wonderful body butter, each one will last a single person at least 3 months of continual use.
All body butters from All The Way Handmade are small batch produced and made with fruit oil butter, fragrance and/or essential oil, botanical extracts, and botanical decorations.
Approximate weight is 6oz for a 3oz volume jar with ~1.5oz net weight of product. The glass jars are reuseable, dishwasher and food safe. Handwashing is recommended for the plastic screw-top lids. Shipping is determined by weight and is calculated at check out.
*Our Body Butters are extremely lightweight and fluffy. During times of extreme heat, they may warm up and deflate a bit in transit, but are still 100% safe and useable.
Learn more details about our Artisan Body Butter in our announcement blog post! 
For any further questions, please send us an email using our Contact Us page or contact owner@allthewayhandmade.com.
---
Share this Product
Value Pack
It's fantastic as a starter pack if you just wanted to try out all the best ones! Some of them can even be paired to create new scents!
Great pack!
---