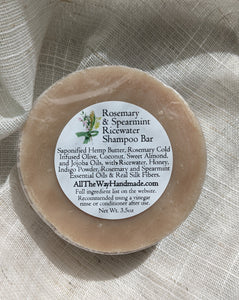 All The Way Handmade
Spearmint & Rosemary Ricewater Shampoo Bar
Regular price
$10.00
$0.00
Unit price
per
Spearmint & Rosemary Ricewater Shampoo Bar
Another treat that was clanging around in my head for a little too long before getting materialized. I hadn't known where to start for ages until I finally found a guide to help me. I knew I wanted an herby shampoo bar, non surfactant, no SLS or SLAS, and believe it or not, finding a starting recipe to jump off from was shockingly difficult with those two requirements.

I knew I wanted rosemary and spearmint. I wanted to try using indigo powder. I wanted to use ricewater. I had a ton of slow / cold infused rosemary olive oil to use. And boy oh boy did I cram all of those in! To top it off, I had never used hemp butter either, so why not add one more new item to this recipe while I was at it? Maybe this was not a best practice move but it worked out this time. 

Since this soap is in solid form and doesn't contain common surfactant "noodles", it is entirely possible that it could leave a film on your hair. This entirely depends on the type of water you have for your shower. If you find this recipe leaves a film behind on your luscious locks, make a 1:4 vinegar to water rinse - this should take that film right off. If it really doesn't work out as a shampoo bar for you, it makes a superb facial bar too!
 
Fragrance Notes: Spearmint & Rosemary
Luxury Ingredients: Ricewater, Hemp Butter, Rosemary Cold Infused Olive Oil, Rosemary Essential Oil, Spearmint Essential Oil, Honey, Indigo Powder
As always, every bar of our handmade shampoos receives individual attention from design to creation to packaging. We hope you can feel the difference, and of course the love we put in.
To help your shampoo bars last longer, keep them in a dry and ventilated area between uses. This isn't a general warning - it really does help!
All creations from All The Way Handmade are small batch produced and made with saponified oils, fragrance oils, essential oils, skin safe micas, skin safe pigments, and other luxury ingredients. This means it uses all natural ingredients and the traditional way of making soap from scratch. 
Approximate 3"x1" dimensions and 4.2oz weight. Shipping is determined by weight and is calculated at check out. All of the All The Way Handmade Artisan Soaps are hand cut so weight variation between bars should be expected.
For any further questions, please send us an email using our Contact Us page or contact owner@allthewayhandmade.com.
---
Share this Product
---