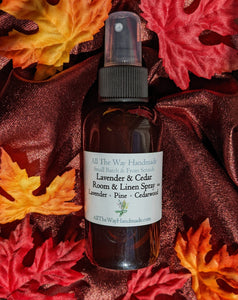 All The Way Handmade
Homemade Apple Butter Room & Linen Spray
Regular price
$7.50
$0.00
Unit price
per
Homemade Apple Butter Room & Linen Spray
Just what it smells like when you get to Grandma's house for any holiday. Whether it's apples being cooked or applesauce, real apple butter (yes, it's a real thing and worth a try if you find any!), or a freshly baked apple pie, those ooey gooey apples are a fall treat. Apple butter is like a really, really concentrated applesauce that cooks for hours. It's a labor of love, for sure. But what all of that cooking does is continue to bring out the sugars from the apples, caramelize them, and continue to draw out flavors from the spices. This spray is a warm, sweet hug!
Each Room & Linen Spray is currently available in 4oz brown spray bottles.

Fragrance Notes: Stewed Apples, Mulling Spices, Raw Sugar
Total Ingredients: Distilled Water, 91% Isopropyl Alcohol, Fragrance Oil, Polysorbate 80, Optiphen Plus
All of the All The Way Handmade Room & Linen Sprays are small batch, with a simple, no nonsense recipe. Because there is water in this spray, a natural preservative is required.
Care Tips:
Keep Room & Linen Spray out of direct sunlight and in a cool location. Shaking not necessary before spritzing.
For any further questions, please send us an email using our Contact Us page or contact owner@allthewayhandmade.com.
---
Share this Product
---